For the past few weeks I kept thinking about my Aon climb back in January. I had spent the previous few weeks regenerating all the muscle that I lost while running, moving, and traveling and had felt dead legged for weeks. I didn't feel great going to the start line that day, and five floors in my legs confirmed it as they turned to lead; at floor ten it felt like I had swallowed a bag of razor blades. It took just about all I had to keep putting one foot in front of the other. To boost my confidence going into the Strat I rode a time trial up a popular nearby climb and wound up smashing my goal. Still, I kept remembering how awful I felt at Aon and took it easy for a few days before heading to Vegas.
With redemption in mind, I rolled out of bed at 430 Saturday morning to catch the bus to the airport, hoping to arrive in Las Vegas around 10am. I assumed that the craziness wouldn't start until I landed in Nevada, but around 530am a very large, jones-ing crackhead got on the bus and proceeded to spend about twenty minutes trying to light his pipe before he was able to get his fix and calm down. I honestly had no idea what to make of the situation and it seemed that everyone else on the bus was equally confused and equally hesitant to do anything to upset this guy as he was probably twice as large as the next largest person on the bus.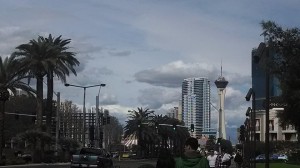 Exhausted, I slept on the plane and hopped on the shuttle to the Stratosphere. One of the things that I love about tower running is seeing the building looming over the skyline. I find horizontal distances tough to internalize; to see a tower looming on the horizon, you know just what pain and suffering you are in for. At the same time, there's a huge sense of satisfaction looking at a skyline and knowing that you can haul yourself all the way to the top. I always remember the first stair race that I did, Hustle Up the Hancock 2012. I was running it with my dad; we met at the airport and opted to wander around Chicago a bit before dropping off our bags. As we neared the Hancock, we looked up into the low hanging clouds and realized that we would have to run higher than the clouds. Every time I look up in Chicago, I remember back to that day and know that I can run higher than the clouds.
After wandering through the gaming floor trying to find hotel registration, I spent a few hours wandering up and down the strip. I found Vegas (at least, the strip during the harsh light of day) to be quite depressing. Nearly everything was run down and the streets were just full of people smoking and drinking. Maybe it was because there were so many people drinking in the street but I kept trying to compare the city to New Orleans. New Orleans is fun, full of life, happy, very much encompassing "laissez les bon temps roulez;" I would not say the same for Las Vegas. Eventually I made it back to the Strat and headed to the tower to pick up my race packet.
I headed up to the tower bar to check out the view and ran into some other climbers. Everyone was very friendly and welcoming; after drinks we headed downstairs for dinner where I had a great time meeting everyone, finally finding people who understood my love of stairs! Everyone was climbing at 8 the next morning so we finished dinner relatively early; after laying out my race gear, I was passed out by 930.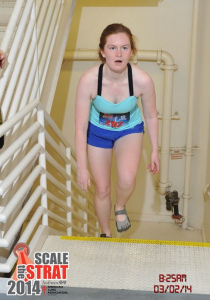 Staying at the Strat was a great idea. I left my room around 715 and made it to the starting area with plenty of time to spare. Outside in the sun it was relatively warm; after climbing a few floors up to the hallway outside the start we stood in a cold breeze just waiting for our time to come up. At8:13:45 I headed into the stairwell. I knew quickly that this wasn't going to be the sufferfest that was Aon. The long flights made the time go by quickly and made the turns quite easy. The tower was nice and open and I was able to spend a few minutes relatively cool before I began to feel overheated. While my legs felt fine, I was acutely aware that I need to get my cardio back up to snuff. I took a flight of single stepping about halfway through to get my breathing back under some semblance of control before continuing on. Nearing the end of the tower flights, before heading into the tighter stairs, I could hear a climber ahead of me and knew that I could catch whoever it was. I got a little disoriented switching stairwells and had to ask one of the volunteers where to go. At this point I dug deep and pushed it up the final few floors, finally catching Karen, the climber ahead of me, at the finish line.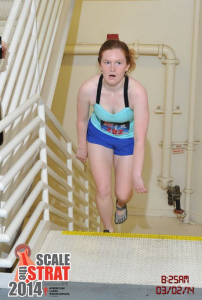 The race photographers were very quick to distribute finish line photos which I thought was a nice touch. The rest of the race was a little disorganized (I learned after the fact that there were t-shirts and goodie bags that were meant to be given to all climbers) but I liked that we all had a printed photo of ourself struggling across the finish line. My photos of me make me look like a gorilla, knuckles dragging, shoulders rounded, head jutting forward, jaw dropped; these are my favorite race photos! After spending some time on the floor, my heart rate was back to a functional rate again and I had some water (okay, a lot of water). I try not to drink too much before a race so I drank like an Irishman dropped in the desert (okay, that might actually be what I was doing). I spent some time at the top chatting with the other climbers, getting everyone's opinion on the race before we headed downstairs to get our official times.
I never race with a watch. I like the meditative aspect of climbing, just me and the stairwell, no distractions. I remembered my starting time so that I could figure out my finish time but there was either no clock at the top or I was too out of it to find it. While we were laying next to one another on the floor, I saw Karen's watch, took off the fifteen seconds that I started behind her, and knew I finished somewhere around twelve minutes. Every building is different so I had no real idea how long the Strat would take me to finish. Even at the starting line when we were trying to figure out how to line up I mentioned I was hoping to break fifteen minutes. The other climbers there were very quick to let me know that fifteen minutes was way too slow for me and (thankfully) pushed me to start ahead of them.
I went to the timekeeper for the moment of truth: did I break twelve minutes? YES! 11:57 was my official time. It ended up being good enough for twelfth place female finisher and I missed out on winning my age bracket by less than ten seconds. Considering how little stair specific training I have been doing, I keep being encouraged by results like this and know that I need to start pushing myself to get faster.
We started to take group photos when a random, very outgoing climber decided to join in our little photo session. He was loud and kind of bizarre but I didn't think much of it. As the Germans grabbed a banner and posed for their photos, this random guy started making Nazi jokes and was oblivious to the fact that the German climbers (one of whom had won the race) were obviously uncomfortable. Most of the time I find sporting events like this to be very friendly and supportive environments; stair climbing seems to be more so than most other sports I've participated in. However, you always find someone who just doesn't seem to get it and I hope that he took what the Germans said to him afterwards to heart and learned something valuable that day.
At this point I was very hungry as I hadn't really eaten all day so I checked out of my room and headed to brunch to meet some other climbers for food. I think we sampled everything there at least twice between the five of us as we were so hungry. After brunch we decided to go on a Vegas adventure: how many casinos could we climb? We made it to Circus Circus, Encore, Palazzo, and the Bellaggio before calling it a day. Circus Circus, Palazzo, and the Bellaggio were in line with what I would expect a hotel staircase to look like; the Encore had a really neat stairwell. Encore had stairs running in just one direction and landings on both sides. It was clean, bright, and had three different railings on both sides; we discussed different types of races we could host there. My favorite was to run head to head races which could be translated into a sudden death elimination style tournament.
Despite my reservations about Las Vegas, I actually had a great time. The race went better than I was expecting and I met a bunch of great people who understand my love of stairs. As bizarre as it sounds to most of my friends, spending the day sneaking into casino staircases and climbing was one of the most perfect ways I could imagine to spend a day in Vegas.
Coming up: Presidential Towers. Four separate stairwells in an apartment complex in Chicago, time is (mostly) cumulative. I've never done a race like this before so I'm really looking forward to see what happens!