The first time I climbed the Sears tower, I wound up not coming home for six months. I hated my job more each day and found it increasingly difficult to get out of bed. I lacked the motivation to pull myself out of this slump, not quite realizing that I didn't have to do this for the rest of my life. One of my best friends was living in Hong Kong, asking me to visit. One day I figured out that there are direct flights to Hong Kong from Chicago and that my sister's birthday weekend was in the middle of the pay cycle so I could bill extra hours the first week and not burn as much vacation time. It just so happened that there was a race up the Sears tower that same weekend. So, I booked my flights to Chicago and Hong Kong, yet I couldn't bring myself to buy a ticket back to DC. So, in the last week of October 2012, in the middle of Hurricane Sandy, I got rid of almost everything I owned, found a sublettor, and left my home of over six years for an unspecified adventure that began at the base of the Sears tower.
The second time I climbed this beast, I had moved back to DC, quit that same job for the second time, and once again, bought a one way ticket, this time to San Francisco. So, in the last week of October, I packed up everything I owned, came to Chicago for my sister's birthday, and climbed Sears before leaving for California. Having settled in San Francisco for the time being, I was curious, would my habit of shaking up my life during the last week of October continue?
Race Prep
Physical: B+. I spent the winter, spring, and summer riding my bike up every hill I could find, racing, and doing ha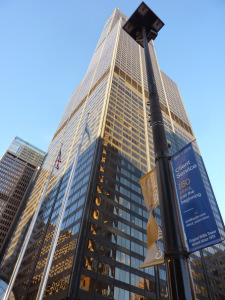 rd intervals to prep for all the crits. I wanted to get down to 129lbs but I managed to hit 134lbs and still maintain my strength so I didn't worry too much about it as it was still a 5lb drop from my post-marathon weight and included a lot of added muscle mass. I finally hit the stairs in the weeks between US Bank and Sears and knocked out a few workouts which allowed me to practice some technical skills, as well as function as a bit of a confidence boost.
Mental: F. On paper I had geared my season to peak around Sears, but I underestimated just how much strength I drew from my friends and training partners on the bike. Once racing season was over, everyone else went into off season mode, whereas I still had six weeks until Sears. As a result, I sort of checked out and didn't commit to the level of training that I really needed in order to comfortably reach a mid to low 18 Sears climb. On top of that, I opted to go back to DC the weekend before the race to tie up some loose ends from when I unexpectedly moved last year, leaving me in a pretty poor place emotionally, as well as messing with my sleep and eating patterns. After DC I visited my family, continuing the messed up sleep and eat patterns. In the future, I will take my vacation post-race; doing so before is just asking for trouble. I threw away months of training because I chose to invite a lot physical and emotional stress into my life at the time when my body could least afford it.
Will I Make it to Chicago?
I had been worried for the past few months about getting stuck on the East Coast due to bad weather. I've had my fair share of Chicago bound flights cancelled, and I did not want that to happen this time. I decided to fly out on Friday, even though I originally wanted to go on Thursday; about ten minutes before boarding, the gate agent announces our flight has been cancelled due to weather in Chicago. I take a refund on the flight, then proceed to ask about Chicago bound flights at several other airlines. My friend Scott let me know what the actual weather issue was, so I could plan better. I really just wanted to get to Chicago, not chancing a storm the next day, so after confirming with two airlines that they're flights were all grounded for the afternoon, I decided to hop a bus to NYC and pick up the train there. However, upon closer inspection, I realized that I had likely already missed the train, so I took a gamble and went to the JetBlue counter where they had a seat available on a flight that had just had it's ground delay lifted.
Race Day
Per usual, I slept in my race clothes, then rolled out of bed at the last possible moment after a very poor night of sleep. I ate some cereal, then called for a Lyft to take my dad, sister, her roommate, and me to the tower. When my dad mentioned that we were off to the tower to climb it, our Lyft driver told us that he used to work construction in the tower and had run up and down it many times when he was younger. Once at the tower, I stripped off my warm clothes, pinned my bib, and hit the bathroom for the first of several pre-race trips. I ran a few laps around the building lobby, did some drills to limber up a bit, then hopped in line. I wasn't feeling anxious the way I usually do before a big race; I was almost relieved that the race was about to be done. I knew my 26 and 52 floor splits for 18:30 and 19:00 and figured I just needed to stay between those bounds and I should be okay. I was very confident that I could go under 20', and my US Bank and workouts times indicated that 19 flat was a very reasonable goal, so I didn't think that this pace would cause me to blow up. We lined up, then got to the entrance where racers were sent off every 8 seconds.
Enter the Stairwell
I went out at a pace that felt pretty sustainable. I've climbed here twice before, and watched video of the course many times, so I figured I was prepared. I checked my time at 26, and was a little under the 19' pace. I felt okay, not really hurting, just tired and sluggish. I kept climbing and hit the halfway point at just about exactly 19' pace. My legs were sluggish; they weren't sore, and they weren't really heavy. I had felt this way in training before and I think it is due to lack of leg strength. I hadn't been able to match my cycling wattage in the stairwell and I think it is because I can't turn my legs over as fast on the stairs as I can on the bike. So, since my heart and lungs seemed fine at the halfway point I decided to run a flight or two while single stepping, shifting the workload more into my cardiovascular system and out of my legs. I did this every fifteen floors or so to try to balance the workload a little bit better. I hit floor 88 and knew I was in the final stretch. I picked up the pace a bit, looked at my watch only to see I had fallen so off pace that breaking 20' was going to be tough, and just held on until 99. At 99 I drew on my experience in my training stairwell which has a real tight fast finish, and mustered everything I could to get to 103. I stumbled out of the finishing chute and sat down to let my heart rate fall. I looked at my watch and knew that I probably hadn't broken 20'.
Results: 20:11
A ten second PR, but over a minute slower than what I felt I was a reasonable goal time based on my recent race times and training paces. I know that my physical conditioning was okay so I think that this race represents the lower limit of what I'm capable of, whereas my 20:21 time last year was pretty close to the upper limit of my abilities at that time. Several of my friends hit huge PRs, and my dad managed to take almost 12 minutes off of his time from last year, so I tried to stay positive while everyone was hanging out after the race, but I just couldn't believe that my weekend DC adventure to remove toxic personalities from my life had had such a negative effect on my race.

300 N LaSalle
I knew that I needed to take it easy after Sears so I spent the week on the couch, eating ice cream, and doing some easy rides and runs with the dog. I still wasn't sleeping well, but I figured since it had been a problem since DC, I wasn't going to fix it until I got back home and onto my regular schedule. I was kind of run down after Sears but I thought my lungs were okay as I hadn't had a cough at all after the race and I had done a few easy workouts and felt fine. I crashed with a friend of mine the night before the race and drove in the next morning, getting to the race with plenty of time to get ready. This is a pretty small race, but well organized; we were being sent off every 15 seconds and I marked the people around me so that I'd have some indication of how I was doing while in the stairwell. I had been doing so much prep this fall for tall towers, that I had it in my head that this race was a sprint, so I took off running. Within a few floors it became painfully obvious that my lungs weren't 100% post-Sears as I began to taste blood. By 10 I realized that this race is not actually a sprint, and eased off the pace. I decided to use the double railing, switching between using the inside rail and both rails, taking advantage of the extra strength I could generate on the inner rail, and the ability to open up my chest a bit with the double rail. I could hear someone ahead of me and just kept climbing towards the sound of their breathing. Around the halfway point I could hear someone closing in on me, and he eventually passed me around 45. Shortly after Chris passed me, I caught Javier, the source of the breath sounds I had been chasing. He picked up the pace when he saw me but couldn't hold it as I passed him a few floors later. Around 50 the floor markers moved from an easily visible place to a spot that was hard to see while climbing. I knew that it'd cost me time to check the floor number, so I decided to just start my finishing kick at this point and hope I could count the floors properly. I was the second female at the top, but I knew there was another fast climber who started a minute or so after me, and I didn't know if there were any other fast climbers farther back that I didn't know. After the climb, most of us from the first wave of finishers decided to do a social climb before the awards ceremony. On the second climb I chatted with my friend David who pointed out the fact that the skin on my feet and ankles is so translucent that my feet and lower legs were actually purple. When David and I found the rest of our friends in the climbers' area, I was informed that my 10:20 was good enough for second! While I know this wasn't an incredibly competitive race, it was a nice result after my bad race the week before.
Key Take Aways From This Week
– Don't change your routine right before a race. Routine alleviates a lot of physical manifestations of stress.
– Don't make stressful life choices right before a race. Losing focus before a long stair climb will not end with a good race time.
– Sometimes taking some time off for a little R&R is critical. A week pigging out on the couch might actually be more beneficial than more rigorous workouts.