After racing at Sears/Willis last year I decided that I'd focus it as my goal race in 2013, working to break 20′. However, a few days later I decided to sign up for a marathon just three weeks before Sears/Willis. Bad idea, lesson learned; I'm not doing any serious distance run training until I've kicked the stair climbing bug from my system.
I think I peaked about a week too early for the marathon; I felt tired and disinterested by race week. I was down to the lowest weight I had been since high school but I  put ten pounds on within days of the marathon, making me the heaviest I had been in a year. This was not a good sign for a vertical race where I would have to pull my body weight straight up the tallest building in the United States. Although I would be racing five pounds lighter than last year, I had absolutely no stair training under my belt. DC doesn't have many long stairwells but my old office had a deep basement so I had access to a 300 step long stairwell when training in 2012; the months leading up to Sears I had access to the 12 step staircase in my house. This wasn't shaping up to be a good race for me and I set my expectations low.
I gave myself a week post marathon to binge eat and recover, spent the next week on my bike riding hills and doing speed work in low gears to build some leg strength; I did some hilly runs but knew my lungs and nervous system hadn't fully recovered from the marathon. I tried to eat cleanly to drop just a little bit more weight but a week out from Sears I decided to just listen to my body and keep eating.
I had already decided that this race was not going to be my best performance so I decided to just have fun with it and enjoy myself outside the stairwell. A late night on Friday followed by a morning flight led to me falling asleep at the bar Saturday night during my sister's birthday dinner. Not exactly my proudest moment but it confirms that I can sleep just about anywhere. After dinner I put on my racing clothes, put my shoes in Fran's bag and passed out. Fran woke me up way too early but we got to the tower on time so I can't really be mad at her. Fran and Dad were set to start at 730 whereas I had secured myself a place at the head of the race, around 7am.
So, with low expectations I entered the stairwell. I quickly passed a few people and kept the pace steady. Around floor 20 the woman who started immediately behind me flew past. I decided to stick to my pace since poor pacing was my marathon downfall and I didn't want to be burned by pacing for the second time in a month. I saw her again around 40, standing on the platform trying to catch her breath. I kept going, surprised that my legs weren't burning but acutely aware that my lungs weren't going to let me go much faster. By 90 my throat felt like I had swallowed a razor blade but the legs were still okay. Since I didn't race with a watch, I was shocked to see that I had finished in about 20:30 (I later learned my official time was 20:21).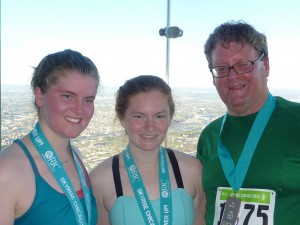 I found a place to curl up and lay around while I waited for my heart rate to drop. I had an awful cough and I realized my limiting factor was entirely my breathing. I then wandered around and talked to some people while I waited almost an hour for Fran and Dad to show up. This gave me plenty of time to reflect on the race, compare to last year's climb, and realize that this is something that I could actually do well at if I ever decided to train specifically for a race.
After spending some time thinking of what I want to focus on for the next year, I realized that I love to climb and if I actually focus and train I could get pretty good at the sport. I was sold once I realized that bike racing and freediving are actually complementary activities whereas marathon running is somewhat counter productive. While I will keep running as cross training, in an effort to not lose everything that I've would so hard for these past few months and to keep my weight down, I need to shift my focus to those activities that really get me excited. There's a certain thrill that comes from stair climbing that I've always had a taste for (anyone who has ever traveled with me knows that I can't resist the siren song of tall buildings and mountains). Since I now live in a city ripe with steep hills and public staircases, I have no excuse not to pursue this path.
See you at the top!